Hello.
Note that none of those motor drivers are -likely- to have inputs or control systems for the potentiometer position sensors on the actuators (but I may be wrong - I haven't looked over the complete line lately).

Actually, Pololu has had motor controllers with feedback for over six years now
We recommend
jrk 21v3 motor controller with feedback
for use with those linear actuators. Just configure the mode and PID constants (the actuator product pages have a link to a settings file for using the jrk with the LACTxP actuators that will configure everything for you) and you get serial (or RC or analog voltage) position control of the linear actuator without needing to close the feedback loop with your Arduino. There are instructions for doing this at the bottom of the
linear actuator product pages
.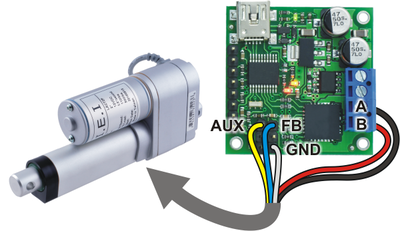 To the original poster, ahmad:
Those actuators have a stall current of 10 A, but the average current does not get anywhere near stall when they are used within their 110-lb load rating. The 3 A Cytron controller you linked is underpowered for this actuator (the 3 A rating is a maximum, and the continuous current it can deliver is likely significantly less than that). This this actuator can briefly draw more than 3 A whenever it starts moving from rest or changes direction, which could damage a controller with a 3 A current limit. The Simple Motor Controller 18v7 does have sufficient power for this actuator, but it does not support feedback, so you would need to close the feedback with your Arduino if you go this route. Even though it is more expensive, I think the jrk 21v3 is the best option (or at least it's the simplest) because it basically just turns your linear actuator into a servo, which lets you move on to the rest of your project without having to worry about implementing feedback loops and PID algorithms yourself.
- Ben