Hi all
I'm new to creating adruino project.
I need help in making a fully automatic room freshener.
I own a basic airwick freshmatic device (attached pics are from net but device functions same).
What problem i have
it only allows only to set intensity.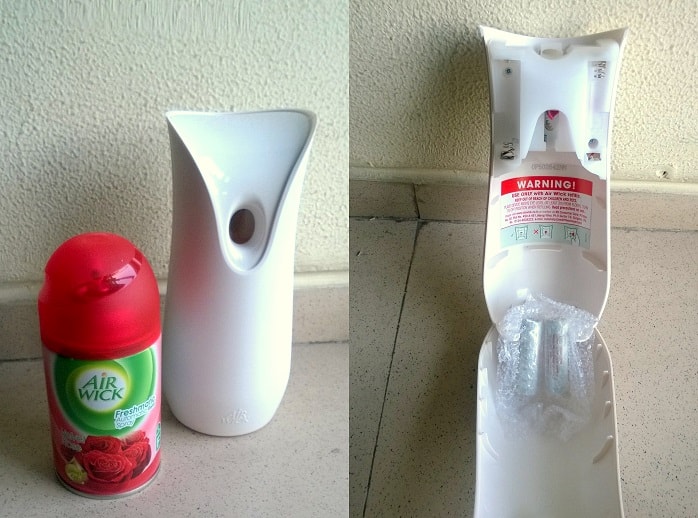 What i want form a automatic room freshener.
-To control intensity of spray for set duration (Spray untill set duration at set itensity)
-To have spray at controlled timings ( alarm based spray at set intensity)
-To have spray as per room conditions, (odor, humidity and temperature)
-To have spray when i enter/leave room (proximity based spray at set intensity)
-To have independent power (solar based for power consumption)
Specifications
My room size is 10 ft by 11 ft. Height 10 ft. No AC or heater, only ceiling fan.
Currently device is kept at height of 3.5 ft.
Power supply is 230v standard.
Device runs on 2 AA size drycell batteries i,e 3v.
The device has motor which plunge the refill for spray.
The intensity in device means duration of plunge at given intervals.
For e.g Low intensity means quick 1 second plunge on refill at interval of 40 mins
I want this device to be completely independent. I have fair knowledge of basic electronics as i'm from engineering background. I need guidance in building the device (coding off-course).
Any help will be appreciated.