Hello everyone, I've been lurking for a while and I believe that the arduino is something that can help me finish my DIY LED light for my reef aquarium. I currently have a 3 channel light that I built that utilizes Meanwell drivers that adjust current based upon a 0-10 volt reference signal that I currently attune via a 10k pot and a regulated wall wart from sparkfun. While this method works just fine for single level manual control, I would like to enhance the ability of the light. Specifically I would like to implement schedules where light is ramped up in the morning and peaks / sets much like the light on the reef itself. In addition to a standard schedule, I would like to include other schedules that would allow me for reduced acclimation periods for new corals, as well as simulate cloud cover etc.
The unknown for me at the moment is my shopping list, and validation that the arduino can do what I think it can do. I know PWM is possible; however, I'm currently tied to the 0-10v signal for dimming.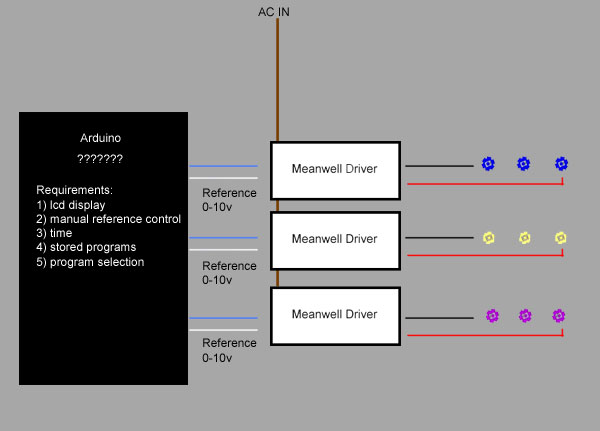 Thanks in advance for any help with my project!