So I wanna use it to make Samus's arm cannon (see picture)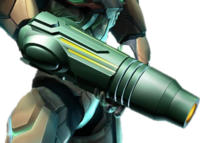 with lights and sound, styled after the first Metroid Prime. I only want the Power Beam, though; I don't think I could handle too much more. What I've done so far is had one 3D-printed. It's about 16.5" long and 8" wide at its widest point. It's in three separate pieces, and links together with a locking mechanism. These pictures aren't the best but they get the job done, I think. http://imgur.com/a/x4k9R
What this means is that I want the Arduino to interact with a button that would activate both lights and sound. If pressed, a sound would play and the lights would burst and fade quickly. If held, the lights would grow and a charge-up sound would play. Releasing the button would cause the lights to burst and a different sound to play. If I can get all that I'm considering adding in vibration too.
Now, my question is, can an Arduino product do all this? I'm assuming yes, which leads to the more important question: If I have little to no knowledge of electronics, am I capable of doing this? I don't really know where to start.
Any help would be appreciated. Forgive the mass of text, but I'm kind of lost at the moment.