Hello All. In an effort to avoid water damage from in-house supply, I have developed a system to disable power to our water pump in the absence of human activity within our house. There is a PIR on each floor, the status of each is sent via RF transmitters to a receiver. If no 'movement detected' is received from any of the transmitters for 30 minutes, the N.C. contacts of a large relay (located between the circuit breaker and the water pump circuitry) open, depriving the the 220VAC needed for pump operation. The 115VAC coil of that large relay is controlled by a small 5VDC relay (commonly found on ebay, etc.), driven by the Nano.
It seems to work fine up until the time the large relay enabling the 220VAC operates. When it does, the Nano appears to freeze. The Nano is embedded in a PCB and all the electronics is in this box:
In the image below, the PCB with the Nano is in the upper left. The U shaped object the the right of that is a place where I originally had the 5VDC relay mounted. To the left of the PCB is the 5VDC power supply. That large open area in the middle of the box is where I originally had the large relay located.
The image below shows where I now have the large relay and the 5VDC relay located, in the circuit breaker panel.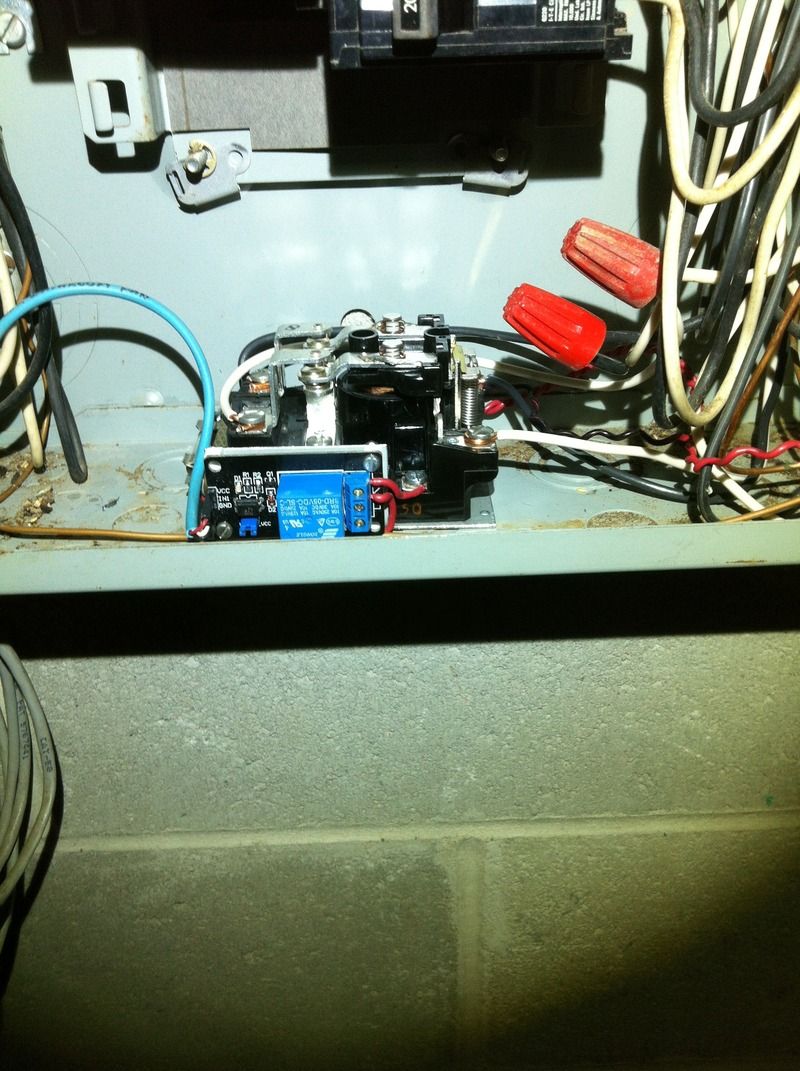 On the front door of the electronics box are 6 led indicators. One of which is a 1HZ heartbeat. This 'heartbeat' (along with all the other circuitry) ceases to function when the large relay is energized. I must point out that even though the large relay is being energized, there is most likely no current flowing between contacts since the pump circuitry is only calling for water for short periods of time, intermittently within a day. The point I wish to make is that any EMF problem there may be is doubtfully caused by any current flow through the large relay contacts.
I initially thought the 'freeze' problem was due to the close proximity of the large relay to the Nano so I decided to move it to it's current location, inside the circuit breaker panel. I also moved the 5VDC relay there too, enabling me to run a low voltage cable to the circuit breaker panel from the electronics box. That cable is stranded 3 conductor, 22 GA, unshielded. The 115VAC for the coil of the large relay is fused, If I remove the fuse, disabling the large relay, the 5VDC relay still operates and does not cause the 'freeze'.
The total current draw with the 5VDC relay energized is 142ma @ 5.2VDC.
Schematic below: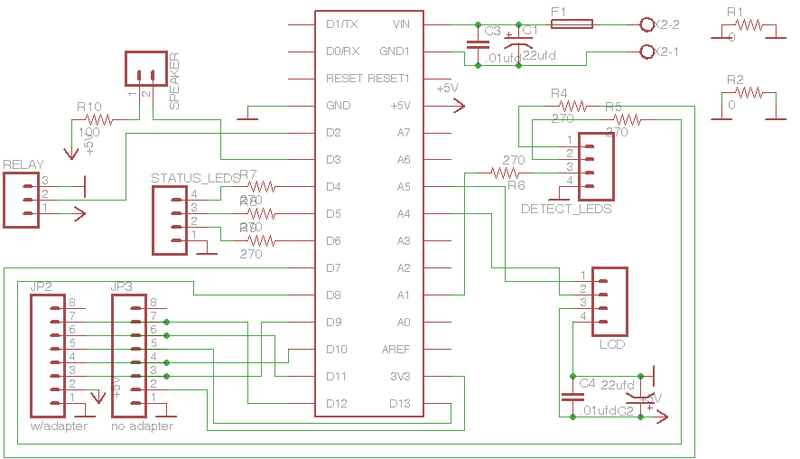 Does anyone have any suspicions as to what is causing the 'freeze'? Have any ideas of things to try in an effort to troubleshoot or perhaps fix this problem?