Arduino library that allows you to create a tiny 20x16 pixel bitmap (raster) display on a normally character-only LCD display. Typical drawing functions like line, rectangle, invert, etc. Control right down to the pixel level. Works with both the standard LiquidCrystal library as well as Francisco's New LiquidCrystal library.
Example sketchs are available on the project website and as part of the library download. Try it out and let me know what you think. I plan on adding additional features in the near-term.
Here's a sample of it in action: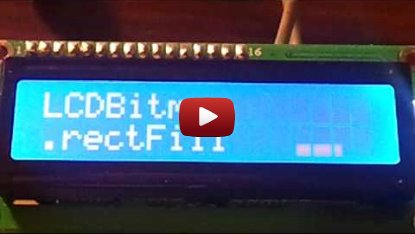 New in v1.6 BITMAP_RANGE_CHK bug fix.
New in v1.5 4bit method now works without the New LiquidCrystal library (was always supposed to work this way, oversight on my part). Update switch now optional on all functions, defaults to NO_UPDATE.
New in v1.4 Fixed a few problems with the barGraph function. Further optimization with the range checking. Compatible with Arduino 0023.
LCDBitmap Library v1.6 Download
Tim Eckel