Hi,
Here's a little something I've knocked out in the last week. It's a clone of the 1981 classic Nintendo Game & Watch handheld title "Parachute". It's using the TVout lib, and I'm running on the Hackvision hardware, and I also have it running on my own breadboard variant. I do like the Hackvision though! I did make a few SW tweaks and have fed that back to Michael @nootropic.
Original box: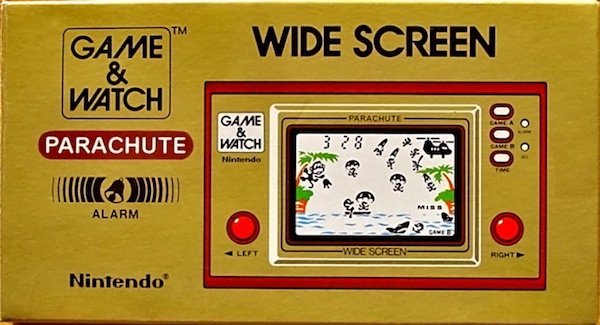 To anyone who's unfamiliar with the original G&W games they used an LCD with each animation frame as a defined graphic in the LCD. So animation is done by flipping cells on then off in a controlled manner. My code emulates that - and I feel it's pretty close to the real thing.
My clone: http://www.youtube.com/watch?v=Q6LQtORpJOA
The hardest part is getting decent looking graphics at 128x96 resolution! :) Pixel by pixel tweaking is required - I'm no artist so the bitmaps took almost as long as the code!
Apologies for the video quality - the game looks much nicer in real-life! It was late and I was using my iPhone4 in my right hand to record the video whilst I played the game with my left hand.
Once it's complete I'll post the code somewhere. Need to store hiscores in EEPROM and finish the sounds (beep beepity beep!)
Cheers,