I've been fooling with this all day: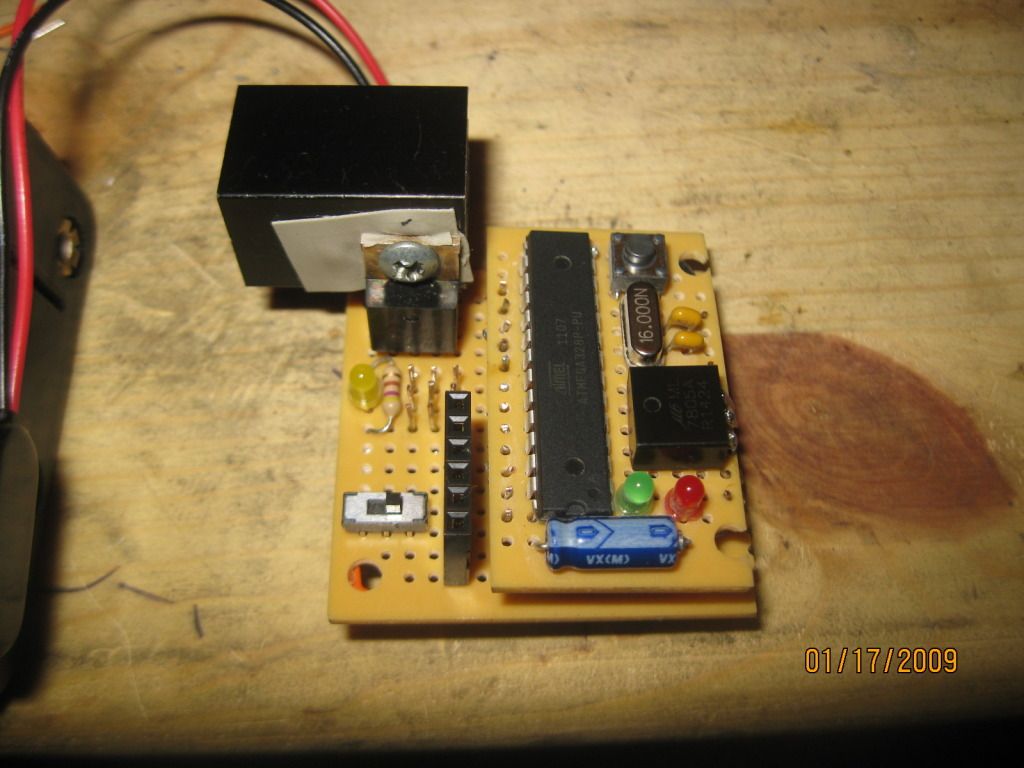 I've since added a cap to the supply side of the VR on the top board. The top board is outlined in this thread:
http://arduino.cc/forum/index.php/topic,114057.0.html
The bottom board is just more breakout for the top board plus power input, a switch, power led and power for the servos.
It's supposed to be a board to run my little robot. I'm only using 5 I/O pins to run it. Everything worked fine on the breadboard and I've pretty much duplicated what was done earlier including pins used and power routing, power supply etc.
I'm using an 8XAA battery holder which is wired to the 2 7805 voltage regulators. One VR powers the servos and the other powers the top board with the chip. 7805 #1 just feeds the pos and ground for the servos plus a power led and 7805 #2 runs a 328P plus another led that indicates power to the IC.
When I loaded my sketch. (It worked fine on the breadboard) I just got some twitching and such. I then re grouped and tested all the pins using a modified blink sketch. All was well and I even hooked leds up to all the outputs and ran a little sequential blink deal which seemed to work well. So I don't think it's a problem with the pin wiring.
The strange thing is that it seems to run the blink stuff fine with 5V from the Arduino board powering the standalone deal but once I switch to the battery pack things get wonky. The next step is to see if I can power the servos with 5V that is separate from the line powering the chip. I did notice that I'm only getting about 3V at the chip so I'm wondering if the 2 7805s are dragging something down.
I even tried loading a simple sketch that would rotate one of the servos and tried it on several pins but still just got some slow stepper like motion from the motors.
Since all the pins check out by blinking I'm hopeful that my wiring isn't screwy and it's just a power issue.
I'm going to sit down and try to draw a schematic that may help some.
Any input would be great! I feel like I'm pretty close.
Funny, I REALLY need some female/female and male/female jumpers. I ordered some male/male jumpers last week and was thinking "WTF would I need any of those other kind for?" :cold_sweat:
Another thing I noticed: When I have it hooked up to a 12V power supply everything blinks as it should but when I try to run it from the 8XAA holder (It checks 12.5V) I just get one led fluttering.