Hi all,
I've completed my most-recent project which basically tells me when the International Space Station (ISS) is overhead my home, and whether or not it will be visible. It consists of 2 pieces - firstly a Python app that scrapes data from a website and transmits customised data via XBee modules to an Arduino-based (Ardweeny) remote unit with a LCD and RGB LED. I've designed this in such a way as it can be configured to track a number of different satellite (eg changing it to track the Hubble Space Telescope would take about 30 seconds changing a config file for the Python app).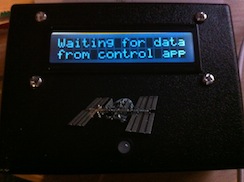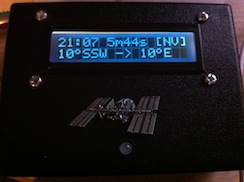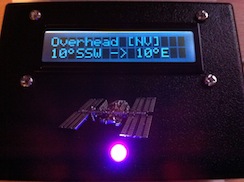 I've written the project up in more detail here.
My young kids love the RGB LED - they go a little nuts with the pulsing green light - meaning the next pass will be visible to the eye, and flip-out with the pulsing purple meaning the ISS is overhead! We've made quite a few trips outside to watch the ISS pass through the night sky. It's such an amazing achievement for mankind to have this first real home-away-from-home, and seeing the wonder in my kids eyes as they stare up at it pass over our home is a lovely feeling.
Cheers,