Hello,
I'm using Arduino UNO R3 (ATMEGA328-PU) and trying to measure with micro flow sensor SMWF0.5B (http://shineui.co.kr/shineui/bbs/download.php?bo_table=eng_s_05_05&wr_id=23&no=0&page=3 ) the quantity of liquid instead of flow rate.
My circuit includes: 1 push button (with internal LED) for turning on the system (Normally Open connection), another pressing will turn off the system (EMO).
The code include state machine with timer using millis() of 12 seconds: led1 is turn on for 5 seconds and then turn off, now led2 is turn on for 7 seconds and then turn off. If button was pressed within the 12 seconds the system is turn off.
During the 12 seconds I want to measure with the FLS two different quantities - 100ml and 175ml, I want to fill 2 tanks with different quantities.
I connected the FLS to digital pin 3 (interrupt 1), tried many examples from the web, sometime got false values like when the turbine is idle the data is rising.
In other words, I want to count the number of pulses (according to the datasheet every 58 pulses is 1 L/min) every 0.5 second (sample rate) and then I can calculate the liters, right?
According to the datasheet - the equation: Pulse signal(Hz) = 60 * Flow rate (Q -> L/min)
=> Q(L/min)=(Pulse signal(Hz) + 2) / 60
Any examples of codes that I can draw ideas?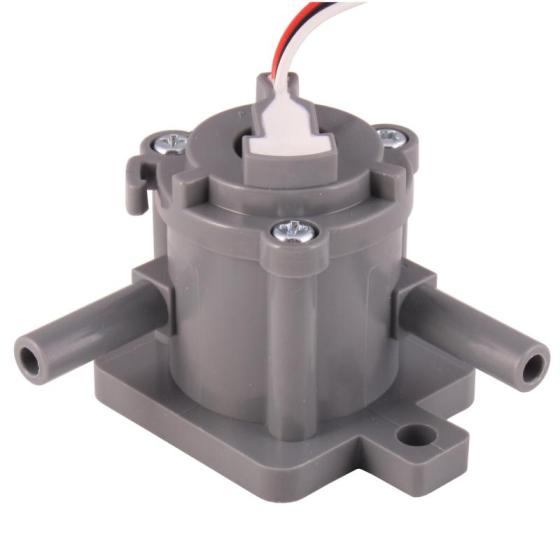 Thanks in advance