Hi all,
I've made a simple Standalone Temperature Logger using the ATtiny85 with minimal parts which should be able to run for at least half a year. You can extract the data logged from the internal EEPROM by connecting it up to an Arduino. There are 11 logging delay times available (1min, 5mins, 10mins, 15mins, 30mins, 1hr, 2hrs, 4hrs, 8hrs, 12hrs, 24hrs). It can store up to 511 values of temperature.
Pictures, guide to use, code, schematics, PCB designs available here: http://www.insidegadgets.com/projects/standalone-temperature-logger/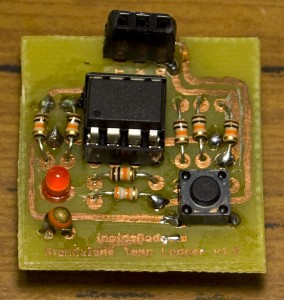 I kept track of my development progress in 9 parts starting here showing how I went from the concept to the PCB design and the things I learnt along the way: http://www.insidegadgets.com/2011/01/03/building-a-standalone-temperature-logger-part-1/
Cheers, Alex.