The free Arduino Plugin for Visual Studio 2012 provides some very useful tools that makes learning Arduino a little bit easier. (Read how to get Visual Studio for free at the end of this post)
One of the tools is the "Class Diagram" which is available to all components of any Arduino project. Below you can see the relationship that exist in the Ardino core to the "Print" class.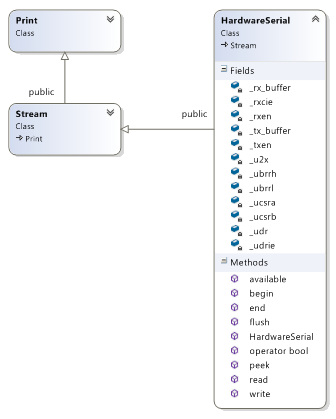 Development of both simple and advanced Arduino projects benefit from being able to quickly visualize and understand the code.
The free Arduino pugin for Visual Studio 2012, 2010, 2008 is available from here.
Instructions of how to download a legal copy of Microsoft Visual Studio 2012 Professional for free from here
Edit: Based on feedback from experienced users I have altered the picture to show a slightly simpler representation. The previous image showed all the Arduino connections to the Print class which was a little more complex.