Hello,
First time posting to this forum. I'm working on a project to create a few digital gauges for a car. I'm using an Arduino Uno to capture the data and send it off to a python program. I'm struggling with the vehicle speed sensor (VSS). Currently I have the VSS plugged into the transmission, its an 8k ppm sensor powered by 12v the sensor generates a 5v ppm signal. I currently have it grounded to the vehicle's chassis, the 12v lead is going to a constant 12v source under the dash and the signal wire is running to the Arduino pin 5.
The issue im having is when I start the engine and the car is in park, I get erratic readings ranging from 4-8 mph, when I start to drive the car the readings increase as expected but when I come to a stop, it still is reading erratically between 4-8 mph. I've tried conditioning the signal by adding a voltage divider using all sorts of resistors ranging from 100ohms up to 10k but still get the erratic readings. I'm not too seasoned when it comes to filtering signal. I've blown up google trying to figure this out. There are a bunch of forums on this topic but very few dealing with real cars. Something is just not clicking with me.
Could someone give me an idea on what I can try next?
This is the type of voltage divider I tried using. The signal is 5 volts instead of 12v for the signal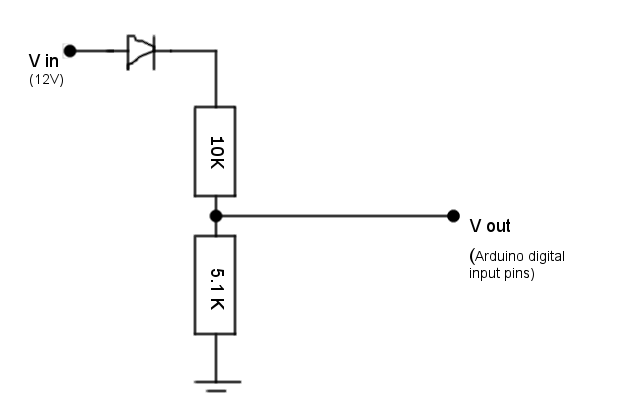 Here is the VSS im using
Below is my complete sketch. The speedometer portion I got from this post Matthew McMillan: Arduino - Digital speedometer
#include <SPI.h>
#include <Wire.h>
#include <TinyGPS++.h>
#include <SoftwareSerial.h>
#include <Adafruit_Sensor.h>
#include <Adafruit_LSM303DLH_Mag.h>

Adafruit_LSM303DLH_Mag_Unified mag = Adafruit_LSM303DLH_Mag_Unified(12345);

const byte tachInterrupt = 1; // tach signal on interrupt 1 (digital pin 3)
byte engineCylinders = 8; // for tach calculation (pulses per revolution = 2 * cylinders / cycles)
byte engineCycles = 2; // for tach calculation
int refreshInterval = 500; // milliseconds between sensor updates
float speedMph = 0;
volatile int RPMpulses = 0;

static const int RXPin = 4, TXPin = 5;
static const uint32_t GPSBaud = 9600;

float declinationAngle = 0.17685997269;

//Fuel
int analogPin= 0;
int Vin= 5;
int raw = 0;
float Vout= 0;
float R1= 10;
int fuelLevel= 0;
float buffer= 0;
int prevFuelReading = 0;
int currentFuelLevel = 0;
bool firstFuelReading = true;

//vehicle speed sensor
const int hardwareCounterPin = 5;
const int samplePeriod = 500; //in milliseconds
const float pulsesPerMile = 8000; // this is pulses per mile for Toyota. Other cars are different.
const float convertMph = pulsesPerMile/3600;
volatile unsigned int count;
float mph;
volatile unsigned int imph;
int roundedMph;
int previousMph;
int prevCount;
volatile unsigned int currentSpeed;
volatile unsigned int filteredSpeed;
int speedo;

const long interval = 1000;
// The TinyGPS++ object
//TinyGPSPlus gps;

// The serial connection to the GPS device
//SoftwareSerial ss(RXPin, TXPin);


void setup()
{
  pinMode(3, INPUT_PULLUP); // enable internal pullup for tach pin
  pinMode(5, INPUT_PULLUP);
  //attachInterrupt(tachInterrupt, countRPM, FALLING);
  Serial.begin(9600);
  
  //ss.begin(GPSBaud);

 
  //compass
  if (!mag.begin())
  {
    /* There was a problem detecting the LSM303 ... check your connections */
    Serial.println("Ooops, no LSM303 detected ... Check your wiring!");
    while (1);
  }

  
  TCCR1A = 0; //Configure hardware counter 
  TCNT1 = 0;  // Reset hardware counter to zero
}

void loop()
{
    bitSet(TCCR1B, CS12); // start counting pulses
    bitSet(TCCR1B, CS11); // Clock on rising edge
    delay(samplePeriod);
    TCCR1B = 0; // stop counting
    count = TCNT1; // Store the hardware counter in a variable
    TCNT1 = 0;     // Reset hardware counter to zero
    mph = (count/convertMph)*10; // Convert pulse count into mph.
    imph = (unsigned int) mph; // Cast to integer. 10x allows retaining 10th of mph resolution.
  
    int x = imph / 10;
    int y = imph % 10;
    
    // Round to whole mile per hour
    if(y >= 5){
      roundedMph = x + 1;
    }else{
      roundedMph = x;
    }
    
    //If mph is less than 1mph just show 0mph.
    //Readings of 0.9mph or lower are some what erratic and can
    //occasionally be triggered by electrical noise.
    if(x == 0){
      roundedMph = 0;
    }
    
    // Don't display mph readings that are more than 50 mph higher than the 
    // previous reading because it is probably a spurious reading.
    // Accelerating 50mph in one second is rocketship fast so it is probably
    // not real.
    if((roundedMph - previousMph) > 50){
      currentSpeed = previousMph;
    }else{
        currentSpeed = roundedMph;
    }
    
    previousMph = roundedMph; // Set previousMph for use in next loop.

    
    
    
    //Serial.println(getRPM());

    int heading = compass();
    heading += declinationAngle;

    // Normalize to 0-360
    if (heading < 0)
    {
      heading = 360 + heading;
    }

    prevFuelReading = fuelLevel;
    raw= analogRead(analogPin);
    int raw= analogRead(analogPin);
    fuelLevel = map(raw, 0, 1024, 0, 300);

    if(fuelLevel - prevFuelReading  > 10 && firstFuelReading == false)
    {
      currentFuelLevel = prevFuelReading;
    }
    else 
    {
      currentFuelLevel = fuelLevel;
      firstFuelReading = false;
    }
    
    Serial.println(String(getRPM()) + "," + currentSpeed + "," + heading + "," + String(currentFuelLevel));
    
  
}

// counts tach pulses
void countRPM()
{
  RPMpulses++;
}


// checks accumulated tach signal pulses and calculates engine speed
// returns engine speed in RPM
// Resolution: 30000 * engineCycles / refreshInterval / engineCylinders RPM (for default values = 20 RPM)
int getRPM()
{
  int RPM = int(RPMpulses * (30000 / float(refreshInterval)) * engineCycles / engineCylinders / 2.0 ); // calculate RPM
  RPMpulses = 0; // reset pulse count to 0
  RPM = min(9999, RPM); // don't return value larger than 9999
  return RPM;
}

int compass() {
    sensors_event_t event;
    mag.getEvent(&event);
  
    float Pi = 3.14159;
  
    // Calculate the angle of the vector y,x
    float compassHeading = (atan2(event.magnetic.y, event.magnetic.x) * 180) / Pi;
    int heading = round(compassHeading);
    return heading;
  }

  int getSpeed() 
{
  /////////////////////////////////////////////////////////////
  // This uses the hardware pulse counter on the Arduino.
  // Currently it collects samples for one second.
  //
  
    
}