This project doesn't involve an Arduino, but it is driven by a mega168 that I programmed using the Arduino IDE and Orangutan Arduino Libraries, and I was sufficiently happy with the outcome that I thought others might find it interesting:
http://www.youtube.com/watch?v=mJV-KDqHgDQ
The above link is to a youtube video of a Pololu 3pi robot (which has a programmable mega168) solving a line maze. This was my first attempt at making a maze solver and I wrote the code from scratch the night before our last local robotics competition, so there's plenty of room for improvment (for example, it would be cool if it could handle mazes with loops or irregular intersections). It would also be cool if it could have similar performance with higher robustness (changing conditions such as harsh shadows or dusty tires can really throw it off at the moment).
It uses PID control to follow the lines and it makes pre-programmed, timing-based turns once it has identified which way it wants to go at a given intersection. Because of this, it's kind of at the limit of what it can do with current programming; if I push it much further it starts to miss intersections or think the ending circle is an intersection, at which point it turns left and drives around the outside of the circle. As it is now, it's so finely tuned that it only functions with clean tires. In the video, on the fast run, you can see it start to fishtail on some of the turns just from the dust the tires picked up on the learning run (normally I use some rubbing alcohol to clean the tires before every run, but I figured that would be pretty boring to put in the video).
I have one other video of this robot, this one from the actual competition, in which multiple 3pi robots are following a line at the same time. My robot is the one that gets knocked off the line last. I posted it in another thread a few weeks ago, but I'll post it here as well:
http://www.youtube.com/watch?v=fl0CJhPiEfY
Here's an picture of a prototype: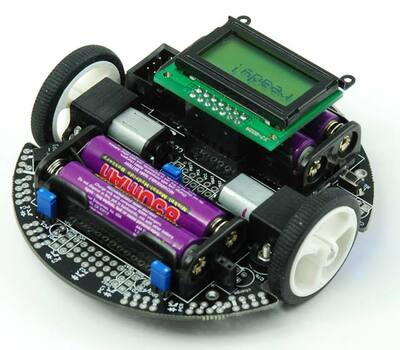 Edit: allow me to apologize for the poor aspect ratio of the video. The camera used takes the video as widescreen, but the only software I have to get it onto the computer didn't seem so good at dealing with this.